Jennifer Connelly as Penny Benjamin wears Persol (PO3235S) aviator sunglasses with a red havana acetate frame and brown lenses in the 2022 action drama Top Gun: Maverick.
Top Gun: Maverick has taken flight, captivating audiences worldwide with its adrenaline-pumping action and a stellar cast. Among the standout performances, Jennifer Connelly shines bright as Penny Benjamin, the former love interest of Maverick, played by Tom Cruise. With her undeniable charm and elegance, Connelly brings a new level of sophistication to the character, captivating viewers throughout the film.
Jennifer Connelly, known for her diverse and powerful roles in films like A Beautiful Mind, Requiem for a Dream, and Blood Diamond, showcases her immense talent once again in Top Gun: Maverick. Her portrayal of Penny Benjamin is layered and captivating, as she adds depth and complexity to the character. Connelly's ability to deliver emotionally resonant performances has made her a highly respected and sought-after actress in the industry.

In a memorable sailing scene, Connelly's Penny Benjamin dons a pair of Persol (PO3235S) Aviator sunglasses that perfectly embody her character's stylish and charismatic nature. The red Havana frame adds a touch of elegance and individuality, while the aviator shape and brown lenses provide both style and protection from the sun's rays. The sunglasses serve as a reflection of Penny Benjamin's confidence and fashion-forward sensibility, establishing her as a memorable and fashionable character in the movie.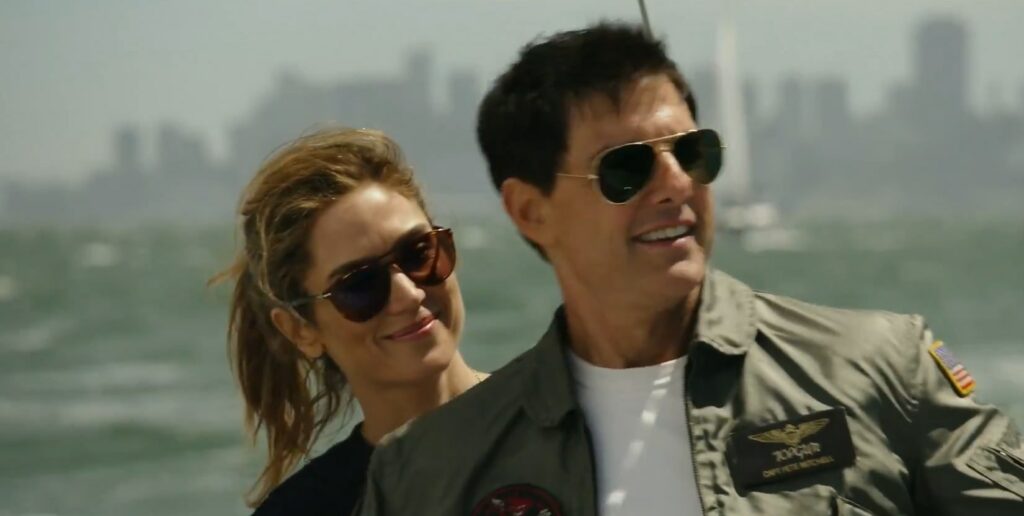 The sailing scene featuring Tom Cruise's iconic Ray-Ban 3025 Aviators and Jennifer Connelly's Persol (PO3235S) Aviator sunglasses creates a visually stunning moment, capturing the essence of their characters and the connection between them. It adds a tantalizing blend of romance and adventure to the film, leaving audiences captivated by the cinematic charm and undeniable chemistry between the two characters. Jennifer Connelly's seamless performance as Penny Benjamin further solidifies her status as a talented and versatile actress, able to bring authenticity and depth to any role she takes on.