If you're a big fan of The Hangover trilogy, then you'll definitely remember Bradley Cooper aka Phil, crazy ole' Alan's 'best friend'. (Did we just hear someone sniggering?)
If you want to look great, you won't go wrong with owning the very same shades Mr. Cooper wore to blockbuster fame. For example, Mr. Cooper can be seen wearing the Ray-Ban RB3025 sunglasses after one of the 'wolfpack' – Doug – gets taken hostage by crime lord Marshall.
Bradley Cooper is also seen in a different pair of aviator shades – the Oliver Peoples Benedict Gold frame with Java Lenses – in The Hangover 2. Let's take a look at these two very similar sunglasses.
Trendy
On top of these shades being extremely in-demand right now, they're also reasonably priced. You don't have to break the bank in order to own a piece of eye-wear that even big name celebrities such as Jennifer Lopez and Bradley Cooper have been seen in. The aviator sunglasses are classic designs so they'll continue to be in style for many years to come.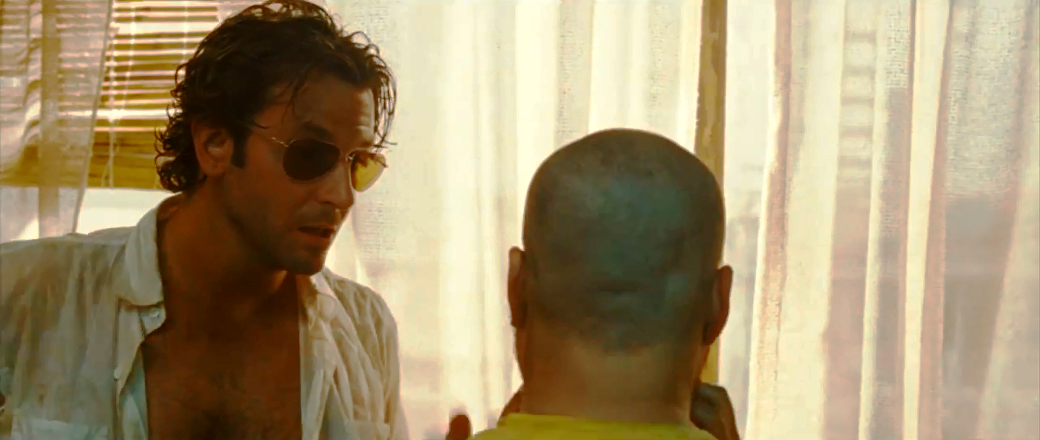 Protection From UV Rays
So…I've seen many people trying to look cool while wearing sunglasses indoors. But really, sunglasses are meant to protect one's eyes from harmful ultraviolet (UV) rays while you're out and about your business outdoors. The good news is that you'll get to enjoy full protection from harmful UV rays when you put on any of these sunglasses. Whether you're lounging by the beach or running errands out in the sun, your eyes will stay protected.
Bend It without Breaking It
The aviator sunglass from Ray-ban has an adjustment feature which allows you to bend the sides to fit your face without fear of ending up with a broken shade. You'll also get to choose which color you'd like your protective case to be in at the time of purchase.
Lifetime Warranty
Although you're offered a free protective case when you buy this sunglass, accidents do happen. But with the guaranteed lifetime manufacturer's warranty, you'll never have to worry about wasting money on a broken product. All you have to do is contact Ray-ban and they'll tell you how to get a new pair if something unfortunate happens. It's that simple. (Terms and conditions apply though!)