Harvey Keitel as Mr. white wears Ray-Ban 2140 Original Wayfarer sunglasses in the 1992 thriller Reservoir Dogs. As the elder statesman of the heist crew, Mr. White is a seasoned criminal with a sense of honor and loyalty. He becomes a moral compass amidst the chaos and mistrust that unfolds after their botched diamond heist.
Throughout the film, Mr. White's unwavering allegiance to his partner, Joe Cabot, played by Lawrence Tierney, is central to the narrative. Keitel skillfully navigates the dynamics of their relationship, conveying the complexities of loyalty, trust, and betrayal. His measured performance adds layers of intrigue to the character, making viewers question his motivations and true loyalties.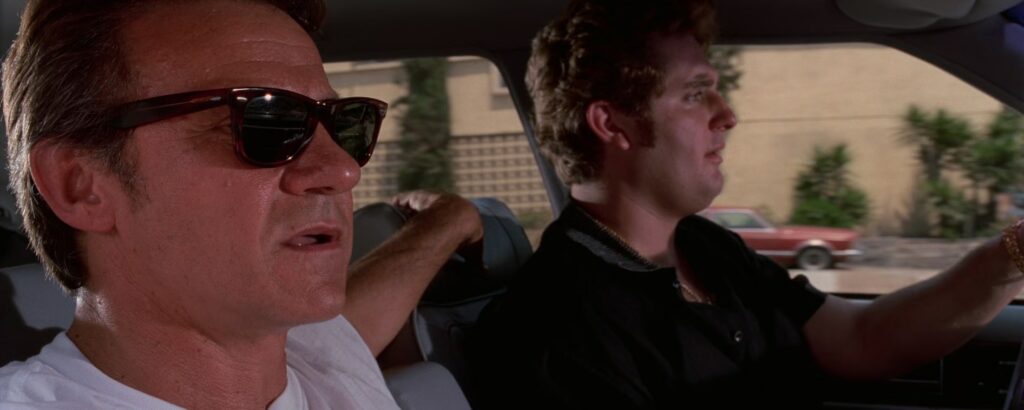 The Ray-Ban 2140 Original Wayfarer Sunglasses worn by Keitel as Mr. White add an iconic touch to his character's persona. With their timeless design, these sunglasses perfectly complement Keitel's portrayal of a seasoned, stylish criminal. The bold, chunky frames and slightly angled shape evoke a sense of coolness and rebellion, further enhancing the character's overall image.
With a career spanning over five decades, Harvey Keitel has established himself as a versatile and talented actor. His remarkable portrayal of Mr. White in Reservoir Dogs undoubtedly stands among his most memorable performances. Keitel's career began in the 1960s, where he gained recognition for his work in Martin Scorsese's early films. Ranging from the gritty drama of Mean Streets to the haunting intensity of Taxi Driver, Keitel showcased his exceptional range and captivating presence. His collaborations with Scorsese marked the beginning of a fruitful partnership that would continue to unfold throughout the years.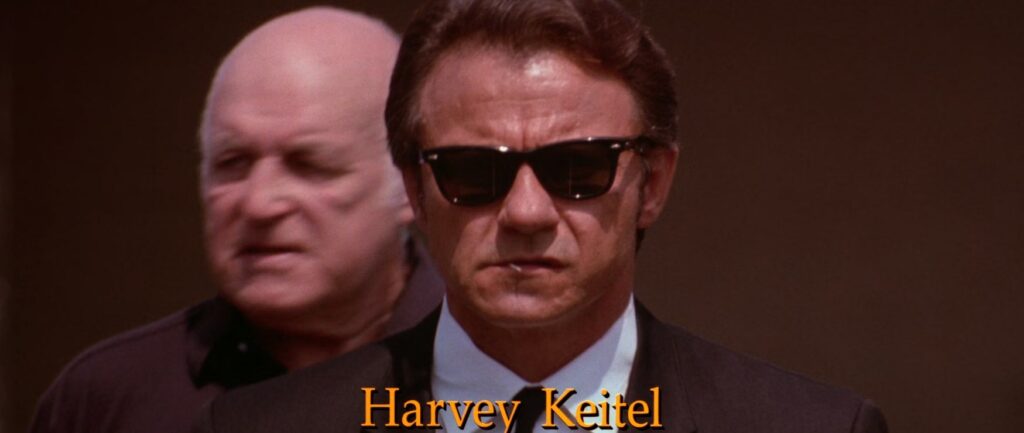 In addition to Harvey Keitel's Mr. White donning the Ray-Ban 2140 Original Wayfarer Sunglasses, several other characters in Reservoir Dogs also sport stylish and iconic eyewear. Tim Roth's character, Mr. Orange, is seen wearing the Ray-Ban 3016 Clubmaster sunglasses.
The Clubmaster design features distinctive browline frames and has become synonymous with vintage Hollywood style. Roth's character, who is an undercover cop infiltrating the criminal gang, exudes a sense of cool confidence with these classic shades, adding to the mysterious and enigmatic aura surrounding Mr. Orange.

Meanwhile, Michael Madsen's Mr. Blonde rocks the Ray-Ban 2140 Original Wayfarer sunglasses, similar to Keitel's character. Madsen's portrayal of the sadistic and unpredictable Mr. Blonde is infamous in the film. The Wayfarer design, with its bold frames and timeless appeal, enhances Madsen's portrayal of a ruthless gangster. The sunglasses become an extension of Mr. Blonde's chilling persona, adding a touch of menace and intimidation to his character.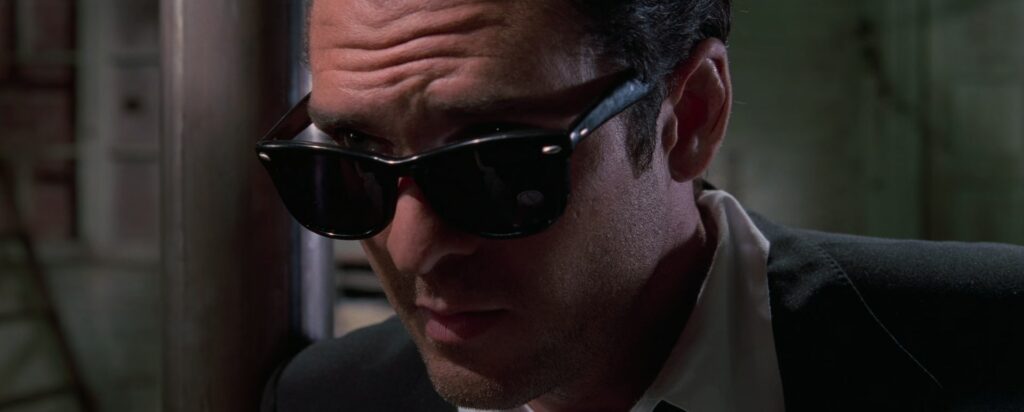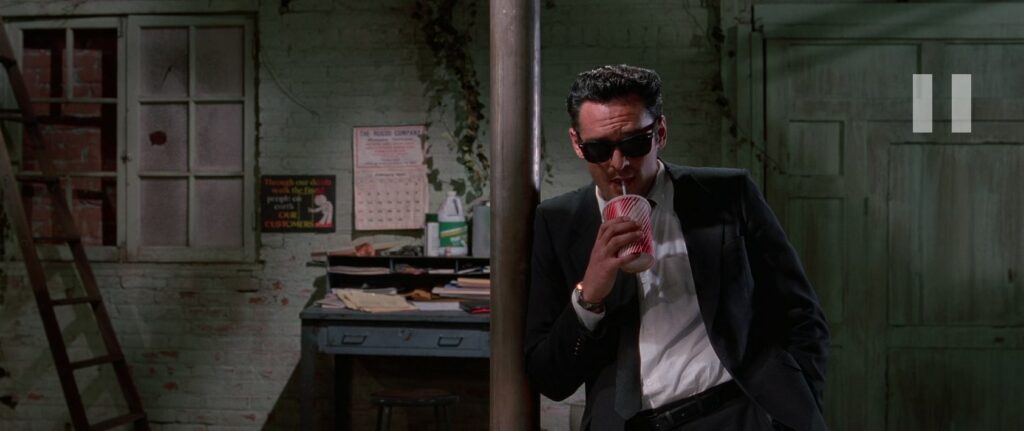 Furthermore, Quentin Tarantino, the film's director who also had a small role as Mr. Brown, is seen sporting the Ray-Ban Predator sunglasses. The Predator model features wraparound frames and a sleek design, reflecting Tarantino's own edgy and unconventional style. As Mr. Brown, Tarantino brings a distinct energy and eccentricity to the film, and the Predator sunglasses complete his look, adding a unique and bold flair to his character.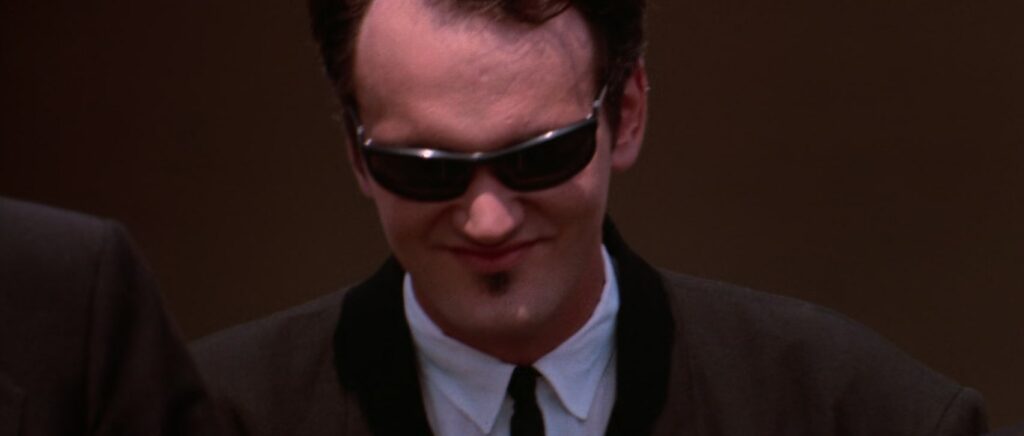 Reservoir Dogs, with its ensemble cast of memorable characters, utilizes eyewear as a visual element to enhance the overall style and persona of each role. From the Original Wayfarer and Clubmaster to the Predator sunglasses, these iconic Ray-Ban designs contribute to the film's gritty aesthetic and help define the distinct personalities of the characters portrayed by Harvey Keitel, Tim Roth, Michael Madsen, and Quentin Tarantino.