Emma Stone as Olive wears Ray-Ban 2140 Wayfarer sunglasses in the 2010 comedy Easy A.
Oscar-winner Emma Stone has enjoyed a fabulous career on-screen with celebrated roles in films such as "Superbad", "Zombieland", "Birdman", "The Help". And, of course her Oscar-winning turn in "La La Land". Therefore, it may seem a little strange that a lesser-known film in Stone's extensive work has garnered so much attention recently.
Although arguably not her best-known film, "Easy A" represented a turning point in the career of Emma Stone. Its influence is still being felt today mostly in terms of fashion with the stunning sunglasses her character wears.
There is something about the classic Ray-Bans that has managed to keep fans of Emma Stone as well as fashion-conscious fans going back to this movie. Stone's remarkable looks, including her stunning red hair seems to work beautifully with the Ray-Ban sunglasses. However, you can also thank the relatable plot for keeping the film in front of audiences.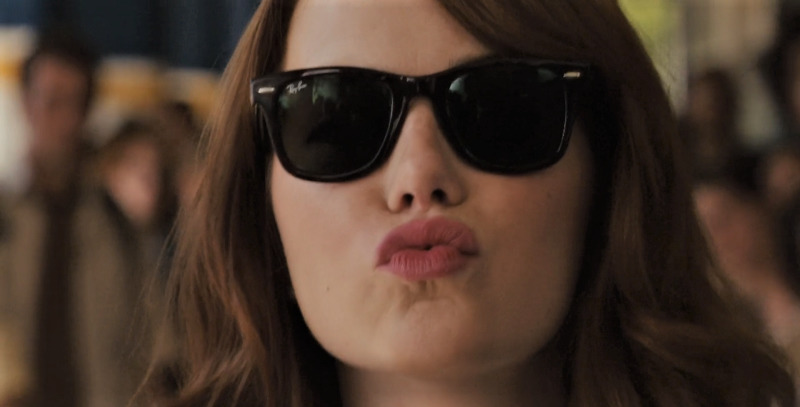 Olive (Emma Stone) is a typical high school student who does not get much notice by her classmates. Until one day when she decides to use the high school rumor mill to bolster her social standing. It doesn't work the way she expects, and her life turns into a version of "The Scarlet Letter". What started as a small boost has turned into a big problem as her classmates, teachers, and even her guidance counselor are now against her. It is up to Olive to take on her new identity and turn on the rumor mill that has put her down.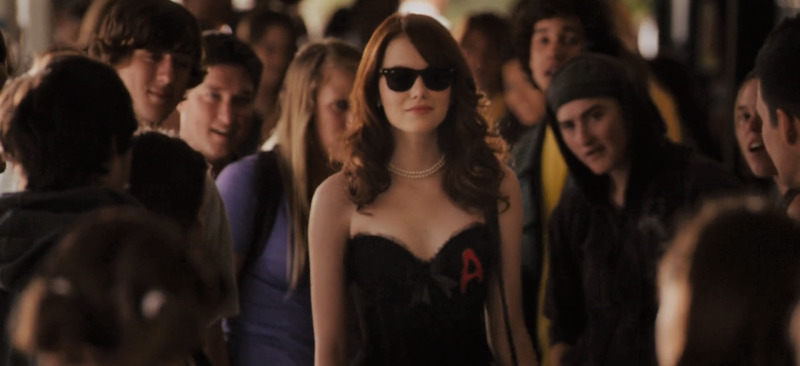 And that new identity is based on the sunglasses that her character wears. The Ray-Ban sunglasses not only alter her appearance, but also signals a new direction for her character.
In "Easy A", Stone's character wears the classic Ray-Ban RB2140 Original Wayfarer Sunglasses. Noted for their acetate frame and unisex design, these sunglasses work for men and women looking to make a statement.
They come in either polarized or non-polarized formats. And as with all Ray-Bans, they lenses are crafted from high-quality glass. Plus, they can handle prescription lenses as well. The acetate frames stand out, even though they are lightweight and quite durable. You can choose from classic black, tortoise, or another color.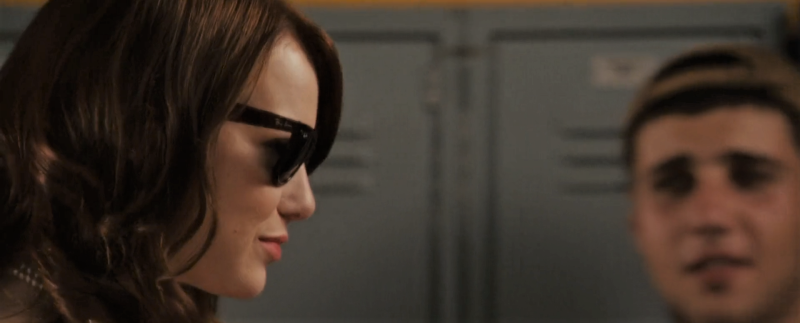 Emma Stone has a face for movies, which makes it remarkable that the sunglasses which hide her distinctive eyebrows can be so effective. But what the sunglasses do is accentuate her looks in a manner that promotes a style and emotion that truly works. With the right pair of sunglasses, Stone manages to create almost a new character from the one played at the beginning of the film. That remarkable transformation can be yours as well with these sunglasses.
If you are looking for the same sunglasses that Emma Stone wears in the movie "Easy A", get a pair of Ray-Ban Wayfarer. A simple, yet beautiful design that not only looks striking on Emma Stone, but on anyone looking to impress while protecting their eyes from the sun.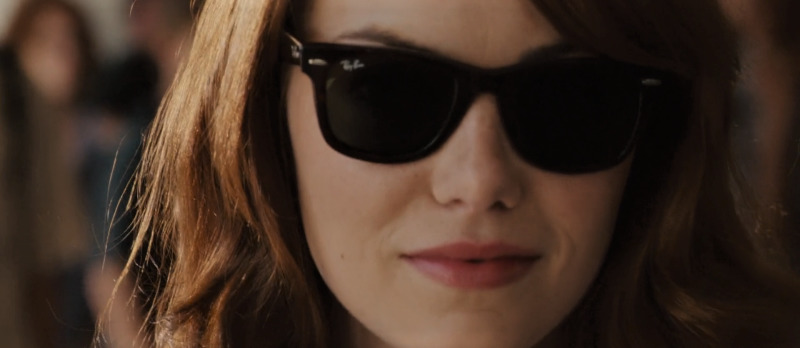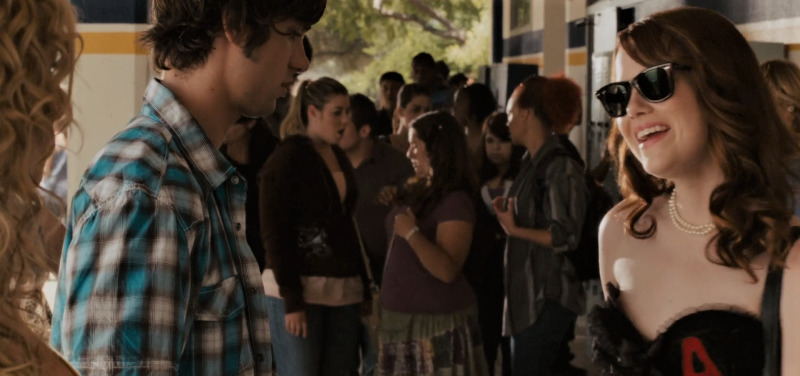 "Look it up, big boy".