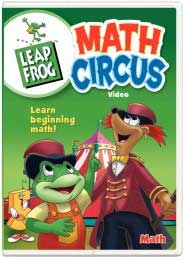 A little while ago we wrote a glowing review for the Leap Frog Letter Factory DVD, an animated movie that guides the characters through the alphabet and helps your little ones learn the sounds of every letter.
While we were browsing through customer reviews to find what hundreds of loving parents thought of the DVD we stumbled on one particular comment:
And highly recommended is the Math Circus as well when they get around 2 1/2 -3 years old. — Tiara Stafford, USA
We decided to take a look and, sure enough, the Leap Frog Math Circus DVD is one of the top rated and best reviewed educational movies for teaching basic math skills to little ones.
In the Leap Frog Math Circus movie the stars of the Leap Frog Series, Tad, Leap, Lily and Professor Quigley, team up to tackle beginner's math, heading to the circus to watch trapeze artists, trampolinists and clowns – all the while learning about the basics of addition and subtraction.
The gushing customer reviews speak for themselves. This is obviously a well-made, fun and educational DVD, perfect for your precious littl'uns developing minds.
One of the best reviews raises an interesting point about the way kids think about numbers. Busy mom Pam Tee said that one of the main problems kids face is that they can memorize numbers (remember the pride when yours first counted to 10 without making a single mistake?), but they don't really associate those numbers with an actual quantity. In other words they're learning numbers by rote with little connection to what these numbers mean in the real world.
The Leap Frog Math Circus movie uses little white cubes called Quidgets to help teach kids how numbers work, teaching them the importance of basic math beyond simply memorizing numbers and sums.
The Leapfrog Math Circus is available right now on Amazon for just $3.11, and eligible for FREE Super Saver shipping!