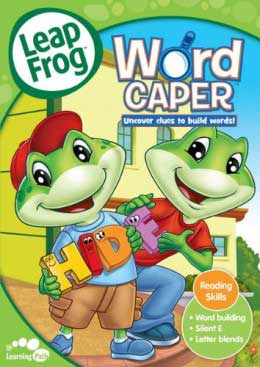 In recent days we've been writing a fair bit about the series of educational DVDs from LeapFrog – you can go back and check out our reviews of the LeapFrog Letter Factory and LeapFrog Math Circus from earlier in the week.
After we wrote the reviews we had a little feedback from parents and fans of the series, asking why we hadn't given the LeapFrog Word Caper DVD any love. Well, the answer is that we'd never heard of it. Not ones to shy from a request we immediately grabbed a copy, sat down with the kids and watched how they reacted to the movie.
We really love the Leapfrog Word Caper movie! Here's the story. Mr. Websley has an accident with the 'Slient E Machine', losing the ability to speak. Siblings Lily, Tad and Leap have to make a voyage through the Complex Word Complex in order to find the code to recover Websley's voice. The kids – and yours – learn along the way how to build complex words to solve the problem and become Websley's heroes, all to the background of catchy tunes your kids will love!
All we can say is that our kids loved it, and we had great fun playing along with the exercises and singing along with the catchy songs. Little Adam insists on watching Word Caper every day after pre-school, and by the look of the glowing reviews he's not the only one!
Adam, unfortunately, has found one of the catchy songs from the movie lodged in his head, and right now he's spending a couple of hours each day humming (and yelling) the tune while we try to make dinner. I guess it's worth it if he's learning his words, but I'm about ready to climb up the wall!
text
Sample from the Word Caper Amazon Reviews
"It certainly opened my eyes to a few learning tools, and I would recommend it to the parent or guardian of any child between 2 and 6 years old." — Amanda Richards, Georgetown
The LeapFrog Word Caper DVD is available right now for just $10.14, and it's eligible for FREE Super Saver delivery on orders over $25.