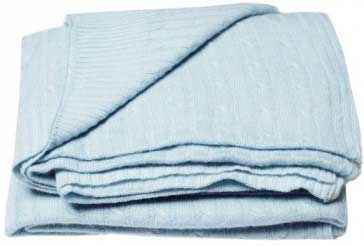 Naturally, there's nothing you want more than to give your baby the best, most comfortable blanket you can when it's time for bed, not only because they're your whole world but – and we're edging away from parental love and into blatant self interest territory here – comfortable babies sleep better, and God knows you need some well-deserved sleep yourself.
Now, I live in Mongolia, home of a third of the world's cashmere production, and I know good cashmere when I see it. When my little one was a baby we wrapped him up in a Mongolian cashmere blanket each night, and almost immediately he began to fuss less and sleep better.
In honor of parents getting a good night's rest around the world, then, today I'm going to write a little about some of the best cashmere baby blankets money can buy. Some are expensive, some cheap, but each one will help your little one drift off to a peaceful rest… and that's priceless.
This first suggestion isn't actually intended as a cashmere baby blanket, but the price is so great that I couldn't resist mentioning it.
This blanket is more than large enough for baby at 50″ x 60″. It's hand-knitted in Nepal from 100% finest quality Nepalese cashmere, and at 3-ply it's wonderfully thick and warm. These blankets usually retail at around $800, but this baby blue cashmere blanket is on sale while stocks last for just $189.95. At the time of writing there were only seven remaining, and when I checked the morning there were nine, so don't expect this blanket to stay in stock for long.
Of course, $189 is too high a price for many, so if you're looking for something a little more reasonable I can't recommend this next baby blanket more highly – it's the one we used when our son was small enough to cradle in my arms, and it saw us through a lot of peaceful nights.
Again, this blanket was made in Nepal from 100% high quality Nepalese cashmere – my partner and I actually got ours from the source during a final vacation before our bundle of noisy joy came along.
The blanket measures 36″ x 36″, the perfect size for a baby blanket, and the edges are lined with satin so little baby can chew away without damaging the fabric.
The blanket is available in a wide range of colors including blue, pink, white, grey and lavender.
Vitally, the blanket is machine washable, so it'll be no problem when baby inevitably gets it dirty.
At just $69.99 this cashmere baby blanket is undoubtedly the best purchase you could make to keep your little darling comfortable, and ensure yourself a good night's rest.