Savior of the Earth, Will Smith as Agent J in the Sci Fi hit Men in Black wears the Hamilton Ventura wristwatch which completes his image of an undercover Intergalactic Police. The picture below shows the Hamilton Ventura watch on Will Smith's wrist.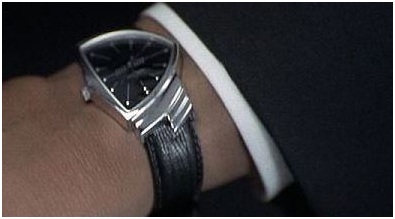 Not the regular round shape, it is more like a rounded triangle with a black dial which gives a more sleek look to Will along with his crisp and sharp suit!
In 2012's Men in Black 3, Will Smith wore a chronograph Hamilton Ventura watch. It has the same shape as the original, but the look is more modern. We have also posted about the Men in Black sunglasses which, especially for a costume, completes the Men in Black look.
Tommy Lee Jones as Agent K did not switch from the original watch in Men in Black 3.